Backups
Business
Business+
Expert
Pro
Make sure to create backup copies of your database(s) on a regular basis to avoid unpleasant surprises.
Business
Creating a backup with RetSoft Archive Business
RetSoft Archive Business offers the possibility to create (and restore) backups directly from within the program. To do so, select 'File' in the main window of the program, and select 'Create backup...'. After this, you can choose a location for your backup file and change its name if required. We advise you to save the backup on a network drive, or removable disk. The following window appears: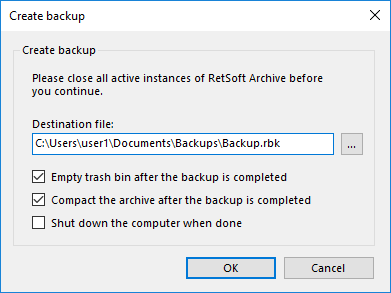 Here you can choose to compact the archive backup and empty the trash bin inside the backup. Because making a backup can take some time, you also have an option to automatically shut down the pc after the process is finished.
ATTENTION: If the backup fails, the pc will not shut down!
You can cancel the backup process at any time. If you are using processing rules they are not included in the backup. You will have to export them separately.
Restoring a backup with RetSoft Archive
Open the 'File' menu in the main window of the program and select 'Restore backup...'. The following window appears: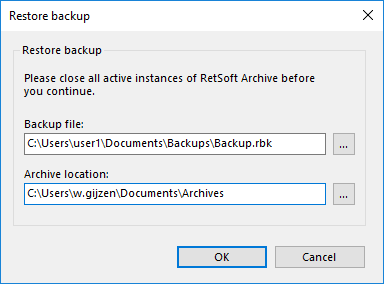 Select the backup file to restore and choose a location. Extisting archives with the same name will not be overwritten. The name of the restored archive will be followed by 'Restored' instead.
Manual backups
Open the folder containing the databases. Refer to Archives for more information about the location and files of RetSoft Archive Archives.
Here you can select the archives made by RetSoft and copy them, then paste them to a different location. (A network drive for example)
Business+
Please consult your system administrator or the manuals of your specific RDBMS (relational database management system).
RetSoft does not support internal backups when using an RDBMS because these systems have their own backup systems in place.
Differences between RetSoft versions
Business
Business+
Expert
Pro
If you currently have a RetSoft Archive 'Pro' or 'Business' license, you can always upgrade to RetSoft Archive 'Expert' or 'Business+' respectively. Contact your RetSoft supplier for more information.
To view a list of differences please visit retsoft.com
Updates & Upgrades
Business
Business+
Expert
Pro